Get To Know Shane
Shane Jackson serves as president of Jackson Healthcare and is the primary guiding force for its mission of improving the delivery of patient care and the lives of everyone it touches.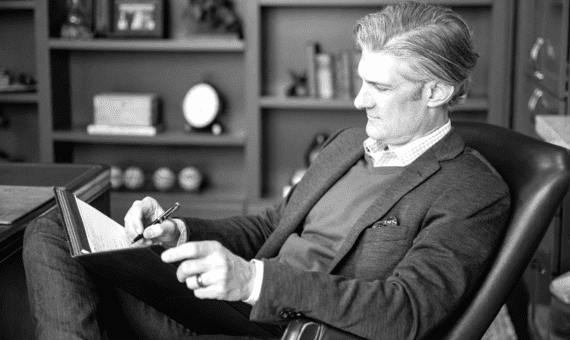 Shane is an advocate for the power of business leaders as a positive force for people and the community. An engaging speaker and storyteller, Shane presents to leaders across the country, empowering them to nurture a values-based culture and leverage their influence to do good in the world. In addition to having served as a contributor to media outlets, including Forbes and Fast Company, he is a frequent guest on podcasts focusing on leadership and business. In 2018, he published Fostering Culture: A Leader's Guide to Purposely Shaping Culture, his first book chronicling his philosophy on workplace culture.  
In addition, Shane's purpose-driven leadership influences hundreds of businesses across his home state of Georgia as co-founder and vice chair of goBeyondProfit. The leader-led business initiative promotes the belief that businesses can – and should – have a profound and positive impact on the lives of others.  
As president of Jackson Healthcare, a role he assumed in 2014, he has consistently led the organization of healthcare staffing, search and technology companies to growth of more than double the industry average, crossing the two-billion-dollar annual revenue mark in 2022. Backed by over 2,600 associates and more than 20,000 clinician providers covering all 50 states, Jackson Healthcare is one of the largest U.S. healthcare staffing companies and is recognized locally and nationally as a best place to work.  
Over the past five years, Shane has been recognized on Staffing Industry Analysts' Staffing 100, a list of the top North American leaders shaping the industry and influencing the workforce solutions ecosystem. In 2020, he received the distinguished Jerry Noyce Executive Health Champion Award from HERO, the Health Enhancement Research Organization, for his contributions in advancing employee health and wellbeing – as well as the Atlanta Business Chronicle's Corporate Citizenship Award. In 2022, he was named to the Georgia Titan 100 list by Titan CEO in recognition of his contributions to the healthcare staffing industry.   
Shane earned an MBA from Emory University and BBA from Harding University.